Hello, good people!
It has been a hard couple of weeks around the world. The middle east is in turmoil, and parts of Japan stand in ruins.
It is hard to listen to the news and simply not know how to help. Well, now there is a small way we can help the people of Japan.
A food blogger, The Tomato Tart, has had the idea to hold a bake sale. Online. Proceeds go to Second Harvest Japan, and will help feed people in need. There is such a severe shortage of food and water right now, every bit helps.
The auction will be held on Wednesday, March 30. Please check out her blog to get involved, and to bid on Wednesday! There seem to be a few options that are gluten free, and at least one or two that are vegan. Hooray!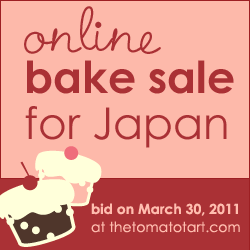 Thank you!